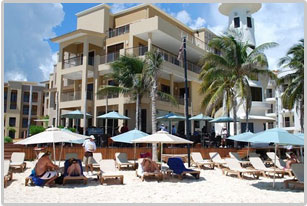 What could be more tempting than staying at your "get-away home" at "El Faro", Playa del Carmen. When you step out on your private terrace and marvel at the magnificent views or our gardens, pearly white sand beach and turquoise Caribbean Sea, you'll realize that you're now a part of this world class oceanfront resort.
El Faro Condo-Hotel gives the traveler the unique opportunity of experiencing the well sung beauties of the Caribbean coastline in an atmosphere of refinement and comfort. It has been built around the only privately owned official operating in the world.
These condos are also becoming the towns landmark, for the graceful lighthouse that borders the northern edge of its beachfront location.
A small but stunning pool has islands of palms inside, and is bordered by cushioned loungers and a palapa topped bar for libations. The entire property has a cool, clean feel to it, with its white cream stucco facade.
Independent terrace with spectacular views offer a supreme balance of space and beauty. These condos provide the cozyness of home with the convenience of a luxury hotel. The condo complex provides 24/7 security service, uniformed maid service, free purified water, and bilingual guest services staff.

El Faro Condos Reservations
by Playa Premier Properties
Luxury Oceanfront Accomodations
Playa del Carmen, Mexico
www.elfarocondos.net
Office: (530) 605-3457
Office (Mexico): (949) 702-8438
WhatsApp (Mexico): (987) 111-4685
Cell: (530) 355-2249
Fax: (435) 604-7080
info@playapremierproperties.com